« Ahmadinejad protest info - DC and NYC | Home | Connecting the Dots »
September 24, 2007
NYC anti-Ahmadinejad Protests
Welcome, visitors from Hot Air. And LGF. And Michelle Malkin. Actually, Allahpundit got it wrong, the photos below are all from this morning. (Go here for photos from the protest at the National Press Club in DC. And lots and lots and lots of great photos and video from Pamela, especially from Ground Zero. The first photo from this post is a poster Mary tried to photograph and hers didn't come out, so I'm glad Pamela caught it.)
UPDATE: Irene at LGF:
The security guys at all the gates down at the World Trade Center this morning said that they had been given instructions not to allow Ahmadenijad in if he showed up. They were told to say it was too big of a security risk. The smile on the guys face when he told me this said it all.
UPDATE: Mary finally wrote her own post, which begins with the protests but goes on to Columbia's suppression of other speakers, its Saudi funding, and much more.
Photos below courtesy of Mary. You can see all her protest photos here. These are from Ground Zero, before the Port Authority moved them out. UN photos after the jump. The woman in the first three photos is Desiree, of whom Kevin McCullough says:

My listeners (about 160) in total were hustled away from the primary elevator shaft on the north side of the PATH train stop (the primary spot at Ground Zero on street level.)

The woman who was given the most grief was Desiree (Jones?) from Brooklyn a long time listener/reader AND a 911 family member. She had tasteful signs that were rested neatly along the outer fencing of the area where we were and was giving a talk to those in attendance about the dangers Ahamdinejad presented to the free world.

Her sobering question - she repeatedly asked those who were passing by and gathered to hear her was, "what if we knew enough to stop another one of these from happening?"
Mary says, "This German woman who had been to Iran said America is the problem. People argued with her, but mostly everyone listened to everyone else's POV and no one was shouted down."
Soldiers were just walking by (probably called in to guard the PATH subway line), everyone cheered them, and this guy moved forward to shake their hands.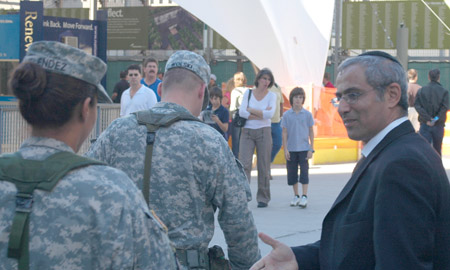 From the UN protest:
This guy is from the Humanitarian Socialist Party. They think the US, China, Japan, and Israel are allying to start wars to relieve population pressure. (maybe he got the idea from Serenity? wonders Mary.)
Sign in the window of Nino's Positano, on 2nd Ave between 47th and 48th. If you are in NYC go over there and give them some business. (Mary says the pizza smells good.)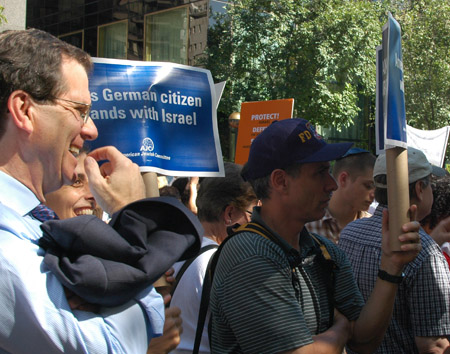 Judith | 09/24/07 at 03:33 PM | Categories: - Iran
Trackback Pings
TrackBack URL for this entry:
http://www.keshertalk.com/cgi-bin/mtb.cgi/6640
Comments
The media blackout of the protesters is stunning.
Schratboy | September 24, 2007 06:32 PM
Post a comment